Producing duo Groovyroom released their latest album Everywhere on July 24th this year. The tracks 'YNF' and 'Loyalty' were previously released on their Loyalty mini-album.
Here are my favorite tracks from Everywhere!
Somewhere (feat. Suran, pH-1) – My first thought when I heard this song was "This does not sound like Groovyroom". It's a bit different from their usual vibe but I like it.  Suran and pH-1 mesh surprisingly well.
Tell Me (feat. Sik-K, Giriboy) – I've probably listened to this track the most. And not just because I'm biased towards Sik-K or anything… I love that Giriboy is on this track to mix it up towards the end. In my opinion, this is one of the best Groovyroom creations yet.
Xindoshi (feat. Sik-K, Loopy, Masta Wu) – Now this track I do like mainly because of Sik-K. I enjoy Loopy's verse and I was actually impressed with Masta Wu here because he actually sounds good as a feature artist. They gave him the perfect section of the song. Kim Hyo Eun's verse is in a completely different part of the song, which is a little weird but it makes more sense with the music video.
Peejay dropped Walkin' Vol. 2 last month on September 4th.  The album's genre is listed as 'Fusion' on Apple Music which I think is appropriate.  Peejay was highlighted in the Masters in the Background segment on Producers on The TLA Podcast.
This album is STACKED. It's officially released under Walkin' Records and The Black Label – which explains the features. I enjoy this entire album but I'd like to highlight a few tracks:
Stranger feat. Crush – Crush never disappoints with his vocals. Yes, he will have you singing 'Hello strang-er' along with him. This track has the perfect blend of jazz and funk elements. Like most of Primary's work, an instrumental of this track would be just as enjoyable as the original.
NA B YA (feat. Zion. T) is very similar to the style of Zion. T's recent album. This song has a similar vibe to the intro track of his OO album except more fast paced. A Zion.T and Primary collaboration makes perfect musical sense.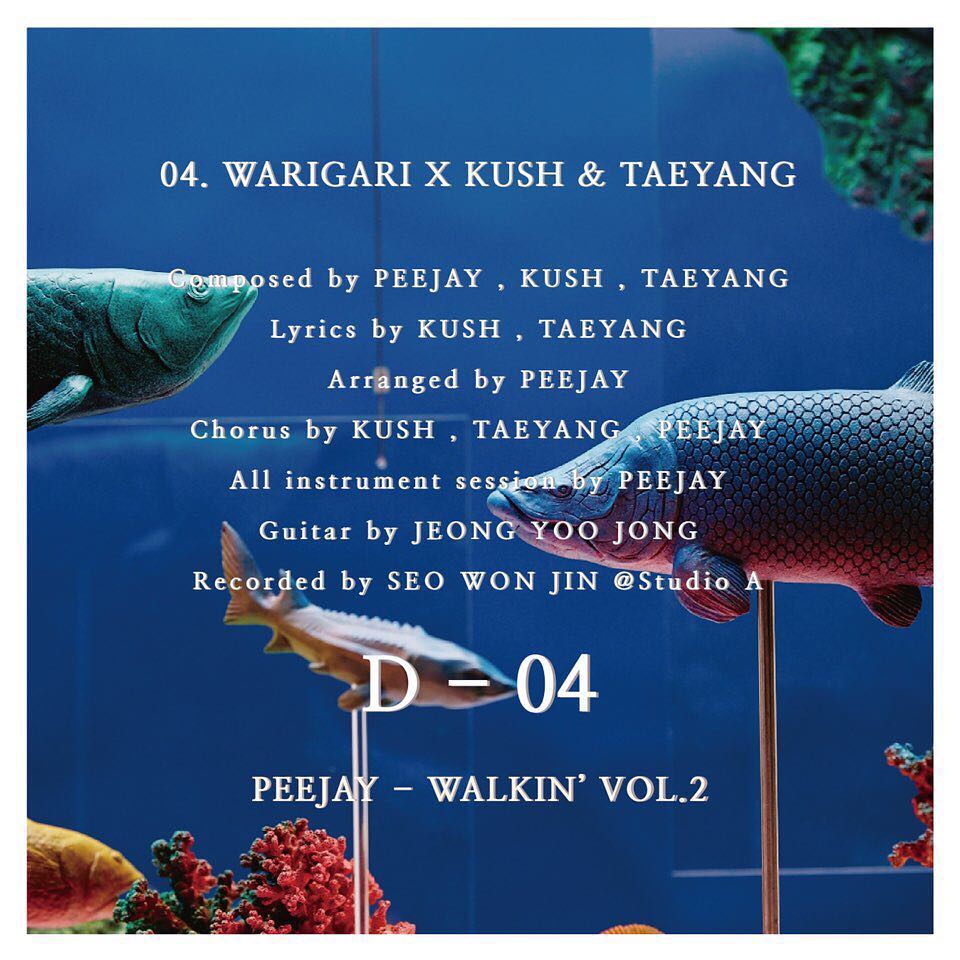 Warigari (feat. KUSH and Taeyang) – I'm loving this YG collaboration. I think this is Kush's first feature on something since his appearance on Show Me The Money. He sounds good! I was still on a high from Taeyang's concert when this album dropped (his Chicago show was September 3rd). He sounds great on this track.
I Drive Slow (feat. Beenzino) – This song has more of a hip hop feel with some rock elements. This is my favorite track because it features Beenzino, on my list of top 3 Korean rappers. I like the effect of the muted beat, which makes the song sound like it's being blasted from the inside of someone's car.
Moonstruck (feat. Qim Isle and Oh Hyuk) –  This song was previously released as a single. I enjoy Qim Isle's style and Oh Hyuk blesses this track with his ever soulful voice.
What are your favorite songs on each album? Leave a comment and let me know!
Thanks for reading! Make sure to like the SeoulRebels Facebook page to stay up to date on the latest music news, recaps and reviews.