Yesterday Amoeba Culture teased Crush's upcoming project 'Oasis', set to be released July 9th. Bless. The project will contain two tracks, 'You and I' and the title track 'Oasis' which will feature artist Zico. Ya'll know I love Crush so for now I will put my disdain for Zico aside and look forward to this collab.
A teaser was released two days ago for Tiger JK's upcoming track 'I Know (이런건가요)', a pleasant surprise especially so soon after the release of 'Forever' two weeks ago. Check out the teaser below:
And finally…some foolishness surrounding It G Ma has surfaced once again. Certain Instagram posts involved have since been deleted but that's what Twitter is for right? Here's a rundown of what happened:
-On Tuesday this Complex article documenting 'The Rise of Illionaire Records' is published.
– I hadn't even gotten a chance to read the article in its entirety before seeing this post (below) from Okasian on Instagram. Shout out to HipHopKr for posting the screenshot with the caption 'Shots fired'. Indeed.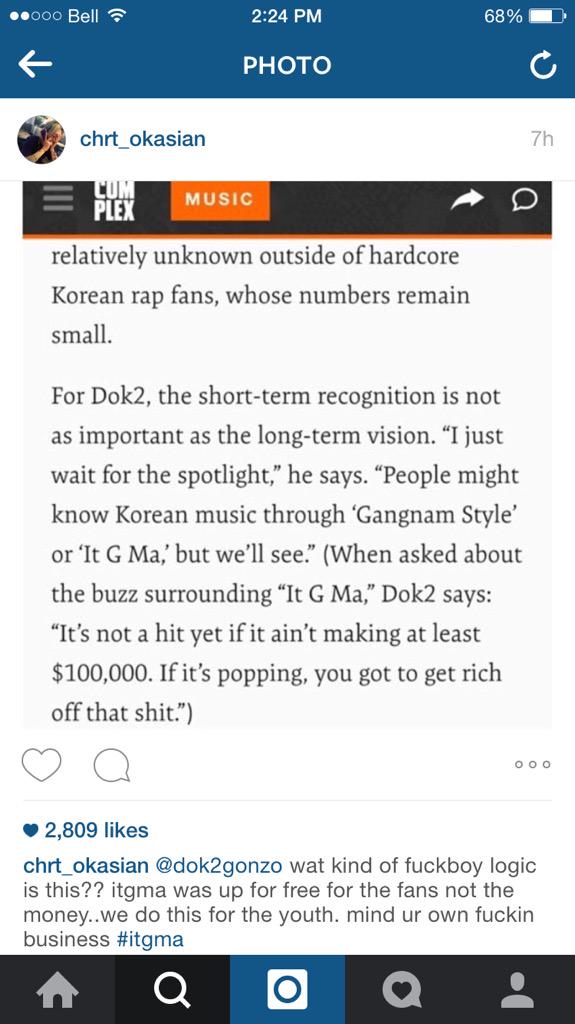 – B-Free regrammed the above post. I can't seem to find a screenshot but I'm pretty sure he said something along the lines of "@dok2gonzo wth?" with '#warready' included. What war, B-Free? Have a seat.
– Tons of chatter on Twitter and other places online about the whole thing. People were prepared to sip tea and had their popcorn ready. And this beautiful tweet was born:
– Now Okasian's original post (as well as B-Free's regram) has been deleted, and Dok2 posted this on his Instagram:
https://instagram.com/p/4oTpEWpoRB/
– Okasian regrammed Dok2's post with this caption: "we live we go thru and we grow. stop hoping for negativity. itgma that 100"
I CANNOT.
First off, I can't believe this whole thing started because of a parenthetical quote in an article.
Second, while the quote does make Dok2 sound hopelessly materialistic, let's think about this people…he's a rapper! A rapper with a label named 'Illionaire' at that. And after listening to the Tiger JK/Yoonmirae interview and hearing more about Dok2's background, I'm less quick to judge his flaunting.
Third, sure 'It G Ma' was released for free but The Cohort can't pretend like they didn't try to profit from the hype at some point. I cannot be the only one having a hard time taking Okasian's response seriously ("we do this for the youth").
Fourth, this whole thing HAD to be resolved soon because the members of Hilite and Illionaire are both set to perform at the same concert (Run This Town) in two weeks. Imagine if they'd let this sit. It would've been hella awkward.
While some are disappointed that a fight, or at the very least a diss track, won't be resulting from this mess, all I can do is laugh.
Additional note: "stop hoping for negativity" is almost exactly what OG Maco said when he and Keith Ape met and took a picture at SXSW. The appropriation continues…